28 Jan 2019
The series 'Derecho a soñar' comes to La 1 de TVE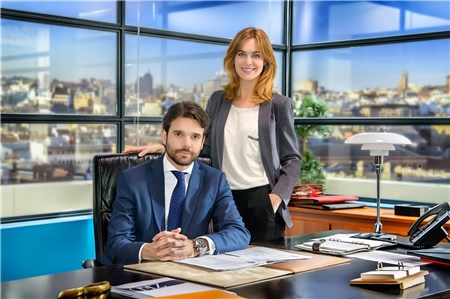 La 1 premieres 'Derecho a soñar', its new daily series whose main action will take place in a major law firm. The main characters will find themselves immersed in betrayal, love and ambition as they fight to help their clients see justice done. Produced by RTVE in collaboration with Boca a Boca, it has a wide cast, with Alba Ribas and Jon Arias in the leading roles.
En la presentación, the director of Cine and Fiction of TVE, Fernando López Puig, has defined 'Derecho a soñar' as 'a modern and current story that is framed within the parameters of the classic telenovela, of the struggle to aspire to more and prosper in a universe of lawyers".
The Executive Producer of Boca a Boca, Vicente Torres, has added that the series is also "a love story between two people of very different social origin, a daily series of lawyers as had not been done before, in which during the week he will follow a case that will lead to a trial, generally every Friday".
The protagonist, Julia Rojas (Alba Ribas), is a young woman with a difficult life who, with great effort, has managed to graduate in Law. Upon learning that a prestigious law firm is looking for an intern, he enters the selection process. Ribas has pointed out that hers "is a brave character, who wants to work, who has not had much luck in life and who will soon find in Jorge Leiva someone with whom to form a great professional tandem".
Jon Arias plays Jorge Leiva, son of one of the founding partners, who must join the firm after the sudden death of his father under strange circumstances. "He wants to know who his father was, with whom he had not had a normal relationship. He feels like he has to stay and get to work on the cases his father left behind. Jorge and Julia with two characters at a time of change in their lives", explained the actor.
'Derecho a soñar' is not only a series of lawyers, but also a romantic comedy about the professional aspirations of a young graduate, with cases based on real events and a great corruption plot that will hook the viewer. All kinds of conflicts come to the 'Derecho a soñar' law firm, from work to marriage, but they all have something in common: their human interest and their focus on the people affected.
Along with Alba Ribas and Jon Arias, actors such as Mamen Duch, Guiomar Puerta, Álex Adriver, Belén Fabra, Joaquín Climent, Jorge Sanz, Ana Risueño, Aixa Villagrán and Ariana Martínez, complete a wide cast including Cristina de Inza, Biel Durán, Aarón Piper, Juan Messeguer, Violeta Rodríguez, Juan Blanco, Snoga Park, or Christian Sánchez, among others.
The series is shot on 2,000 square meters of sets where several different worlds are recreated: the luxurious law firm, the courts, the street in a central area of Madrid and the houses of the protagonists, as well as urban exteriors.
'Derecho a sonar" is directed by Federico Untermann, along with Manuel Gómez, Valerio Boserman and Victor García León, with Paula Jiménez and Nico Saad in charge of the scripts.